CHARLESTON CARIFEST 2017
June 22 – 25, 2017
Charleston Carifest is a Caribbean Carnival celebration in honour of Caribbean American Heritage Month. It is four days of food, fun, music, and costumes submerged in education and culture.  This is the creative and artistic expression of Caribbean people. Join in and embrace Unity in Diversity.

***
Carnaval is called Karnaval Defile in the Creole language in Haiti.
Carnival in Haiti is a major cultural event celebrated through a combination of music and dance. One of the essential parts of the celebration is the many costumes and colors represented in the parades. This tradition officially began in the year 1927 where people would gather to watch small traveling bands or rara, and the groups of people in bright colorful costumes. Among the many costumes found were the: endyen, endou arab, janb debwa, Madan Deboure, Bèf, Chaloska etc. At the time, these carnival events would be over by sundown.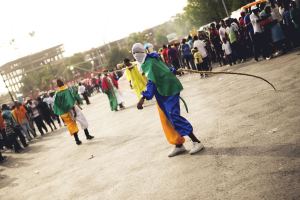 via Christian Nerette fotokanaval.com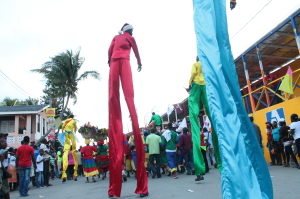 via Gio Jules 
giojules.com
Among the various groups present in early Carnival celebrations, Chaloska was the most popular because this costume scared all children and even some adults. As soon as Chaloska showed up, people would run away. These men usually dressed in black, with lips painted brightly red first appeared in Jacmel's Carnival. This costume represents General Charles Oscar Etienne, a military general under President Vilbrun Guillaume Sam who assassinated more than 100 political prisoners in the early 1900s.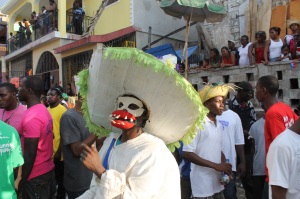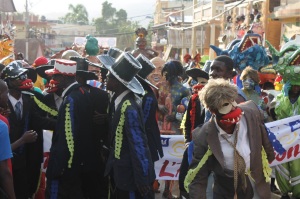 Choukoun is a carnival costume of a Kreyòl woman. Women dawn their most beautiful make up, large earrings, and wrap their head in brightly colored cloths. Sometimes, these women stuff fabric under their garments to make them appear to have exaggeratedly large breasts and hind parts.  This has become a regularly used insult, if someone is wearing clothing that is too big for them, people jokingly call them "Madan Deboure".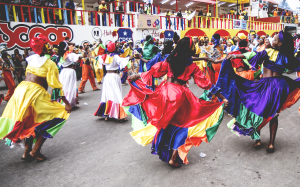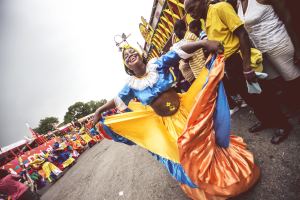 via Christian Nerette fotokanaval.com       
Another much loved carnival costume is the Endyen or Indian. These costumes allude to the period on the island before colonizers took over. These people dress themselves in skirts made of colorful straw. This is the inspiration many parents use when dressing their children up for Carnival themed events for students.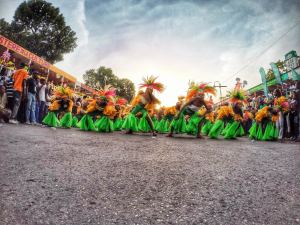 via Christian Nerette fotokanaval.com
Carnival events began lasting through night time in 1948. A few years later, floats, or chain Creole,  carrying kings and queens of the Carnival parade and popular music groups were put into use.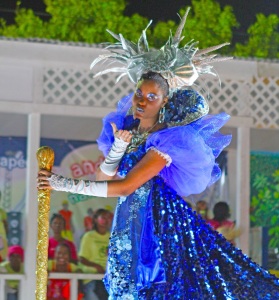 via Samuel Dameus tisamy2k.tumblr.com 
Today, Carnival in Haiti has 3 parts: the parade of costumes in the afternoon, traveling rara bringing local flavor and at night, and the procession of huge floats carrying the popular music groups playing their Carnival themed songs for the year until sunrise.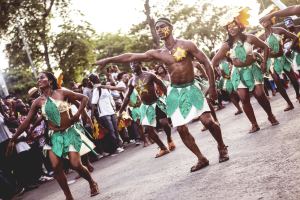 via Carel Pedre plezikanaval.com 
Despite all the changes each generation has brought to Carnival over the past 87 years, Carnival remains an event that gathers all Haitians and makes them proud of their culture. It is one big party that transcends all social barriers; bringing  rich, poor, dark skinned, and light skinned people to one place. It is a manifestation of culture that brings the children of this land that are dispersed around the world back to their roots; permitting all Haitians to dance with all their souls to the same sound and expend the positive energy that this therapeutic celebration awakens in them.
Excerpt from: Chaloska and More: A Few Staples of Haiti's Carnival Tradition by Sophia Fecu.
Non-Profit organization
Charleston Carifest contributes to the work done by Healthy Lifestyle Network.
Join us for the Healthy Lifestyle Network's Tea Party Fundraiser as we raise funds for the women, children, and teens in Port Antonio, Jamaica.
Healthy Lifestyle Network conducts the Shelton Project yearly in Port Antonio, Jamaica. The program works with the children of the Infant and Basic Schools on Environmental Stewardship to plant trees as well as vegetables and flowers, learn about healthy food choices, exercise with soccer/football teams, and develop reading skills with coaches and donated books.
We also teach the teens and women life skills to improve their financial situation.
Starting July 21, The Shelton Project will launch a campaign on awareness and prevention of childhood sexual abuse.
Learn more about the organization Visit
 http://healthylifestylenetwork.org
Donate on Paypal: SheltonProject@gmail.com
Performers
Useful links
From Event to Parades, to Costumes, let us help you find what you're looking for.
Official Host Hotel
>http://hamptoninn.hilton.com/en/hp/hotels/index.jhtml?ctyhocn=CHSACHX
http://hamptoninn.hilton.com/en/hp/groups/personalized/C/CHSACHX-CCF-20170623/index.jhtml?WT.mc_id=POG